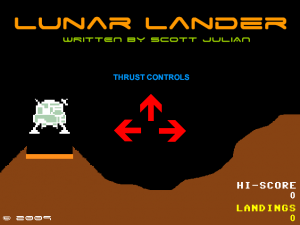 Here's one from our vault all dusted off and ready to play again. This version of Lunar Lander for Windows was written way back in 2009 to celebrate the 40th anniversary of the Moon Landing.
We pulled it out of the volt, recompiled it to work with all versions of Windows including the latest Windows 10 and added it to our site again for free download. Click here
Sometime in 2016 we hope to have aversion up and running on Macintosh, again it will be free to download, play and enjoy.